Newquay Coastal Wildlife Boat Trips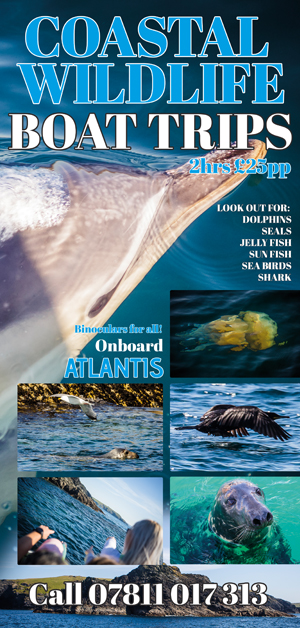 SEAL COVE WILDLIFE CRUISE
BINOCULARS PROVIDED FOR ALL
Newquay Coastal Wildlife Boat Trips – Leaving from the historical port of Newquay Cornwall join us on a 2hr Costal Wildlife Boat Trip down the western shore to Seal Cove.
Your cruise will start in Newquay Bay where you will learn about the old smugglers of Newquay, the local fishing and maritime industry and the RNLI whilst observing an array of seabirds including cormorants, gannets and kittiwakes.
You will then cruise west past Britain's most famous surfing beach Fistral, whilst enjoying the breathtaking Cornish coast we will arrive at Seal cove where you will find the local population of grey seals which can be observed in their natural environment.
Newquay Coastal Wildlife Boat Trips
You will then head off into deeper water in search of Dolphins, Basking Sharks, Harbour Porpoise and Sunfish.
On return to the Harbour you are likely to be met by the resident grey seals where you can get an up close encounter with these wonderful animals.
Your skipper and RNLI Helmsman Matt has been working this coast since he was a boy so expect a few funny stories and tales of daring rescues along the way.