HOW TO BOOK
IT'S ALWAYS BEST TO CALL TO CHECK AVAILABILITY
You can call us anytime on 07811017313 or leave an enquiry on the form opposite and we will advise you on the trips and time slots available.
Were always here for a chat if you want to know any further information about the trips we offer, or if you just want to know what's biting at the moment please give us a call.
Once you have booked a trip with us you will be advised on where and when to meet but below is a departure quays map for you to refer to.
Newquay Harbour postcode TR7 1HR but be advised there is limited parking at the harbour and you may need to arrive early to find alternative parking in the town.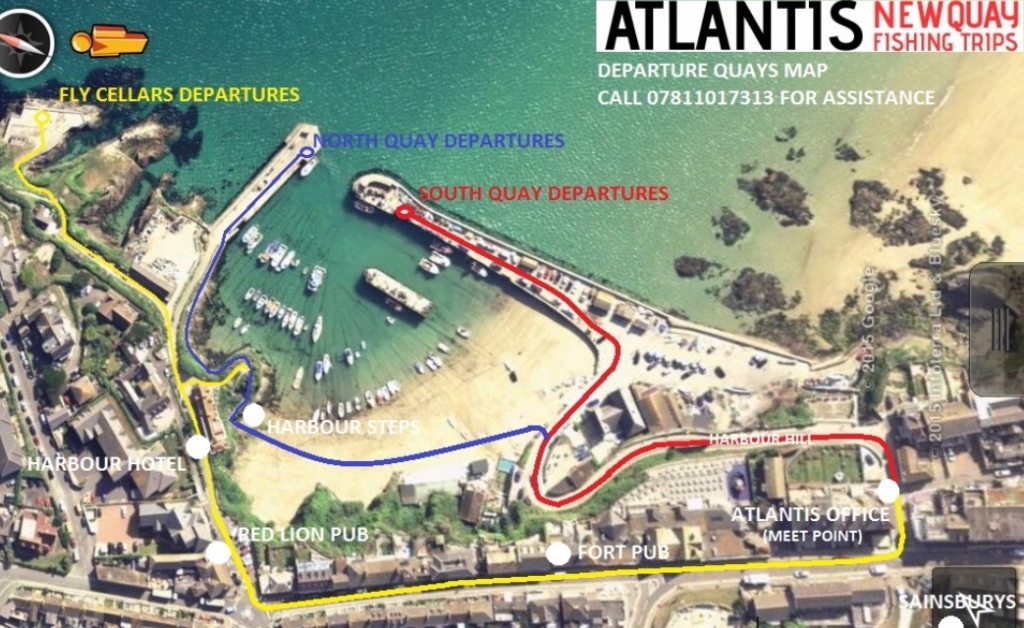 To Book a Trip Call: 
07811 017 313
or leave an enquiry on the form below
ONLINE DEPOSIT PAYMENTS BY PAYPAL
Private boat charters require a £100 deposit to secure your booking
Its easy to make a deposit payment for your fishing trip online using your credit card with Pay Pal even if you dont have a Pay Pal account.
Complete your payment in just a few clicks.
To make a payment for your trip just simply:
Click on the "Pay Now" button.
You will then be directed to the Pay Pal site where you can Enter amount you would like to pay in GBP£.
You can then check out with your Pay Pal account or credit card.
The company name of "atlantisfishing@hotmail.co.uk" will appear at the top of the paypal screen.
This is our company banking name.
**IMPORTANT** When you go to confirm your payment in Pay Pal please enter your name & date of your fishing trip where it says Enter Description.