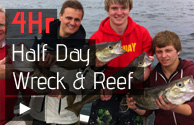 Half Day 4 Hr
Wreck & Reef – £35pp
Private – £350
10am – 2pm or 2pm – 6pm (times may vary)
Booked as individuals or full boat
For those who want a bit more of a bend on the rod this is the trip for you.
From anchoring the wrecks for Conger, Tope and Ling, fishing on the drift for Pollack and Cod to species fishing on the reefs for Bream, Smoothhounds, Gurnard, Ray and many more.
Not knowing what's going to bite next is what keeps anglers coming back time and time again.
From complete beginner to the experienced angler Matt the skipper will give you all the support you require to make your trip a day to remember.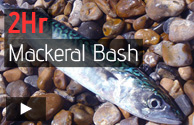 2 Hr Mackeral Bash – £20pp
2 Hr Mackeral Bash Private – £200
Call for availability – 07811 017 313
Our Mackerel fishing trips are a great introduction to rod and line sea fishing.
As on all of our trips rods, tackle, bait etc are all supplied and you keep your catch for the BBQ.
Great fun for all the family!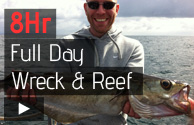 Full Day 8 Hr Wreck & Reef – £60pp
Private – £480
Maximum 9 anglers
9:30am – 5:30pm (subject to demand)
For the more dedicated angler the full day trip is of a similar format to the half day.
However you will find yourselves fishing the deeper grounds and wrecks that cant be reached on the 4hr session.
We will also aim to drift for pollack/cod and fish the reefs targeting various species throughout the day.
Ice will be provided to keep your catch in the same condition at the end of the day as when it was hooked. Hot drinks provided.
For your comfort our bespoke all day charters have limited spaces available.
Less anglers, fewer tangles, more fish!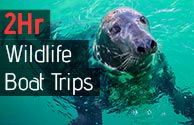 Seal Cove Wildlife Cruise 2hrs
ADULT – £25
PRIVATE – £250
BINOCULARS PROVIDED FOR ALL
Wildlife Cruises Newquay – Leaving from the historical port of Newquay Cornwall join us on a 2hr wildlife cruise down the western shore to seal Cove.
Search for seals, dolphins, seabirds, sunfish and many more along the beautiful backdrop of the North Cornwall.
with guided commentary from your skipper and RNLI Helmsman Matt.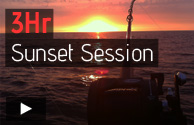 The Sun Set Session – £30pp
June-July-August only
6:00pm – 9:00pm (wreck & reef fishing)
Inshore reef/wreck
What's better than fishing while the summer sun dips below the horizon
– enough said!
Private charters available all year upon request.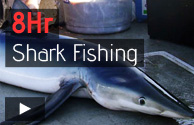 Shark Fishing – £600
Private charter only
9:30am – 5:30pm (Blue & Porbeagle)
Max of 5 anglers. The ultimate fishing experience.
Big game equipment, tackle and chum provided
Please contact us for more information.
| TRIP | PER PERSON | PRIVATE CHARTER | |
| --- | --- | --- | --- |
| HALF DAY WRECK/REEF | £35 | £350 | |
| FULL DAY WRECK/REEF | £60 | £480 | |
| 2HR MACKEREL BASH | £20 | £200 | |
| 3HR SUNSET FISHING (peak only) | £30 |  £300 | |
| FULL DAY SHARK (private charter only) | |  £600 | |
Please call us to book:
07811 017 313
We Take You To The Best Fishing Spots
Our Skipper knows all the best spots to take you to depending on the conditions of the day.
That's why we have one of the higher catch rates in the area.
Newquay Fishing Trips, The Atlantis, Cornwall
Testimonials
WE GET YOU CATCHING, YOU KEEP ON COMING BACK
What an amazing annual trip we had. Matt always puts us on fish. Great boat, great fishing! See you again next year.
Great day species fishing with Matt, loads of bream and even bagged myself a big conger. Great fun on light gear. Highly recommend Atlantis.
I never expected to pull up a 40lb Tope on a 4 hour fishing trip…Amazing!!!!
Our first fishing trip! The kids loved it and we had loads of mackerel for the campsite BBQ. Great fun thanks Matt.
Never caught so many Pollack! Thanks for a great days fishing Matt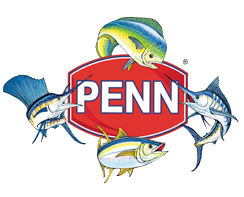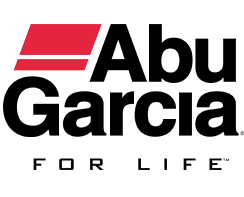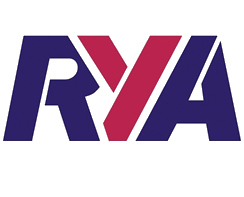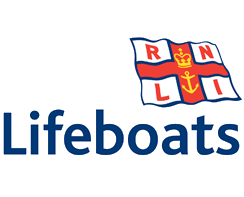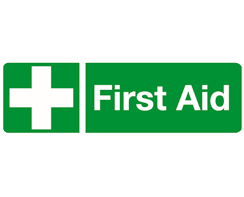 Newquay Fishing Trips, The Atlantis, Cornwall